Eco-Friendly Pedicure Stools: Sustainable Choices for Salons
September 12, 2023
0 Comments
---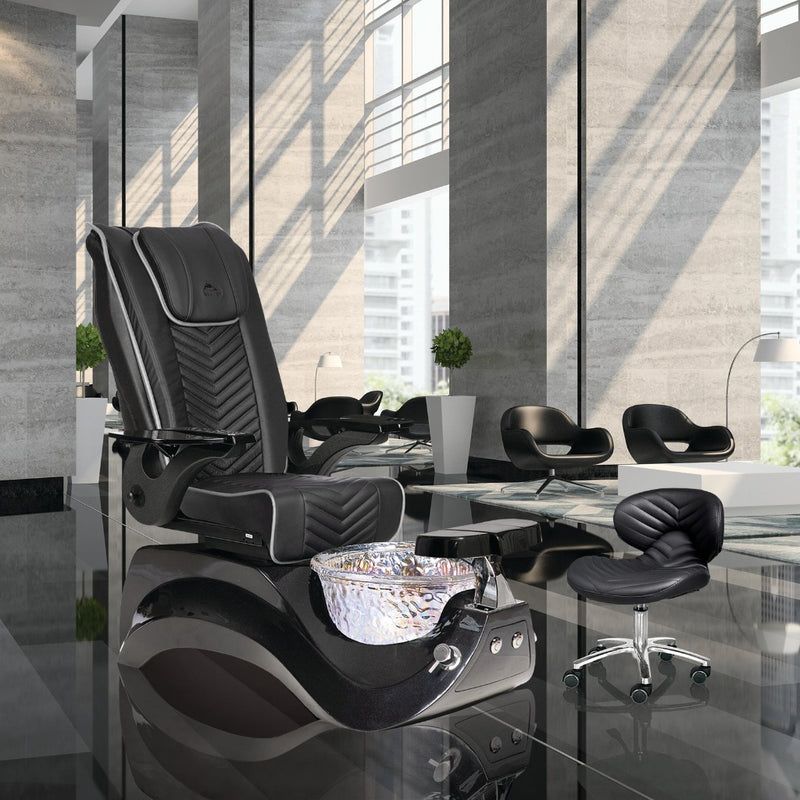 In an era of growing environmental consciousness, salons and spas are seeking eco-friendly alternatives for their equipment and furnishings. Pedicure stools are no exception. These versatile pieces of furniture can be made more sustainable, contributing to the salon's commitment to environmental responsibility. In this guide, we'll explore the importance of eco-friendly pedicure stools and how salons can make sustainable choices.
1. Reducing Environmental Impact:
Choosing eco-friendly nail technician stools helps reduce the environmental impact of salon operations. Traditional pedicure stools often use materials and manufacturing processes that are harmful to the environment.
2. Sustainable Materials:
Look for pedicure stools made from sustainable materials such as bamboo, reclaimed wood, or recycled plastics. These materials have a lower carbon footprint and are less harmful to ecosystems.
3. Non-Toxic Finishes:
Ensure that the finishes used on pedicure stools are non-toxic and low in volatile organic compounds (VOCs). VOCs can contribute to indoor air pollution and are harmful to human health.
4. Responsible Manufacturing:
Choose pedicure stools from manufacturers committed to responsible and ethical manufacturing practices. Certifications like FSC (Forest Stewardship Council) or ISO 14001 indicate a commitment to sustainability.
5. Durability and Longevity:
Invest in high-quality eco-friendly pedicure stools that are built to last. Durability ensures that the stools have a longer lifespan, reducing the need for frequent replacements.
6. Eco-Friendly Cushions:
Consider pedicure stools with cushions made from eco-friendly materials such as organic cotton or natural latex foam. These materials are more sustainable and biodegradable than conventional cushioning.
7. Minimal Packaging:
Choose suppliers that use minimal packaging for shipping and delivery. Excessive packaging can contribute to waste and environmental harm.
8. Recycling and Disposal:
Plan for the end-of-life of your pedicure stools. Check if the materials can be recycled or repurposed, and dispose of old stools responsibly.
9. Energy-Efficient Salon Design:
Combine eco-friendly pedicure stools with an energy-efficient salon design. Use LED lighting, energy-efficient HVAC systems, and natural light to reduce your salon's overall environmental footprint.
10. Educate Staff and Clients:
Educate your staff and clients about your commitment to eco-friendly practices. Encourage recycling, conservation, and responsible product use in your salon.
11. Green Certifications:
Look for green certifications for pedicure stools and other salon furnishings. These certifications indicate that the products meet specific environmental standards.
12. Support Sustainable Brands:
Support brands that prioritize sustainability and environmental responsibility in their products and operations. These brands are more likely to offer eco-friendly pedicure stool options.
Conclusion:
Eco-friendly pedicure stools are a sustainable choice for salons and spas looking to reduce their environmental impact. By investing in furniture made from sustainable materials, non-toxic finishes, and responsible manufacturing processes, salons can contribute to a greener future while providing a comfortable and eco-conscious experience for their clients. Making eco-friendly choices in salon furnishings is not only responsible but also aligns with the growing demand for sustainable and environmentally conscious businesses.